Today i thought i would share a couple cards i did. The one on the right i taught in one of my clubs - it's a basic, cute summer card. The one on the left, i made for my upline, Kimberly as a thank you card. They both use the same stamp, and basic color scheme, but just put together differently. I will list the recipes below.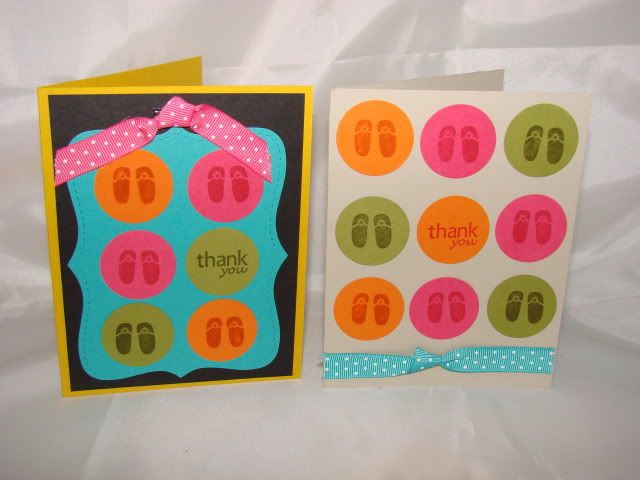 Left card: Background is Crushed Curry, Basic Black, topnote diecut in Bermuda Bay. Circles punched with the 1 1/4 " SU circle punch in Old Olive and Pumpkin Pie cardstock. Ribbon is Melon Mambo polka dot. Stamps are from the Holiday Blitz set (#114982) .
Right Card: Background is Sahara Sand cardstock, circles are punched with 1 1/4" SU punch in Melon Mambo, Pumpkin Pie, and Old Olive Cardstock. Ribbon is bermuda bay. Stamps are same as the left side card.
I think this just shows how you can take one design, and twist it up to create a whole different card by adding an element or a couple new colors.
Just a reminder - the Deal of the week is only good until tomorrow at 10a.m.! If you haven't grabbed it yet, you will love it!! Vanilla Hodgepodge Hardware for only 18.99!
It's on page 178 of your new catty (or page 175 of the previous catalog), you will get 200 (YES!! 200!!) pieces of hardware (brads, label holders, decorative brads, etc) for you to use in your cardmaking, scrapbooking, or papercrafts!
This is an unbelievable deal - reg. price on this is 29.95!! You save 30%!