First off, i want to share with you all a sneek peek of the new Stampin' Up! In Colors for 2009-2010. These will be available starting July 1. See the post below for the names! I used all four colors on this card - the card base is Dusty Durango, the embossed layer (embossed with the fifth avenue floral folder) is razzleberry, and the matted layer for the white is Melon Mambo. The flower was colored in with the new in-color markers!!! Yea! We finally have markers! And the verse was stamped with the suede new incolor marker. Remember, you can pre-order your new catalog from me by checking out my post below, or email me at
smvenancio@yahoo.com
. Cost is $10, but you will receive a $10 coupon for a future order!!! Can't go wrong!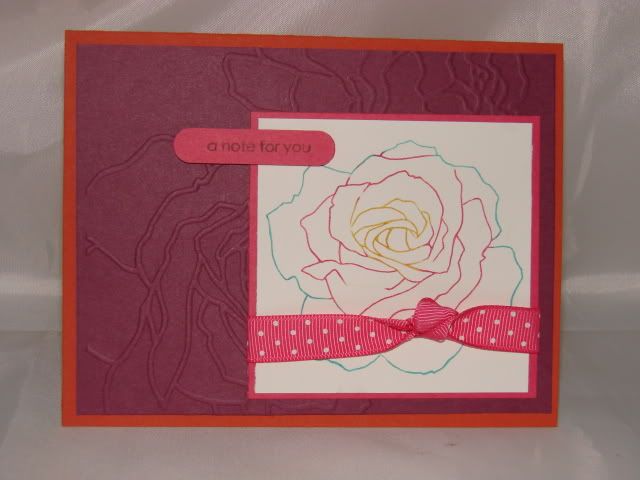 Next, we have a gift for my sis (hope she doesn't peek!) - She is turning 29 on 6/8, (Sorry about the telling of the age Barb!!) and she is a pocketbook freak, we went to a huge HUGE fleamarket in N.H. a couple weeks ago, where they sell tons of knock - off designer purses, and she was in heaven! So, she is already planning her next trip up there, so i wanted to give her some $ to take with her! Needless to say, i needed a creative way to gift it!
Here is where my friend, neighbor and downline - Cheryl, came into the pic. She got the Big Shot Starter kit in yesterday, and i had to go over and play!! I am in total loooooove!!! I also made the lil' matchbox with the matchbox die for the Big Shot. I added a kraft corduroy button (#114340), (love these!!!) and made the top flap with a large scallop circle die for the Big Shot. (#113468). The purse itself was made using the Top Note die - cut out 2x (# 113463) and making a box to put between the two top notes. I then put 2 eyelets (3/16") in the scallop circle and ran some Old Olive ribbon thru. All of these colors are the CURRENT In Colors, that are only available til the end of June!! I love them, they are so bright and fun, i will admit, i will miss them!
The flower on the match box is the Sizzlets die - Birds and Blooms (# 113485). To finish it off, i used the faux alligator skin technique on the top note. (hard to see in pic) More on this technique later! If you would like to learn more about the Big Shot, click on the pic to the right ---->
*Remember, this starter Big Shot kit is only available until the end of June - so, if you are even THINKING about getting one, NOW is the time!! Not only do you get the starter kit at a great price, but you will also get EXTRA hostess benefits for the month of June. The big shot starter kit will give you enough to get $20 EXTRA in FREE product of your choice - (perhaps another Big Shot Die??) above and beyond what you already get in hostess benefits!! This is seriously on my list, and i hope to be getting one before the end of the month myself!!