Can you believe, i am STILL workin' off that same Simply Scrappin' kit that i made the 20 page album out of?? Remember, i told you that i used half the kit for the album, well, today i made more projects from the other 1/2 of the kit - here are a few...
First, i made 2 cards - one general "hello", and the other is a #1 teacher card.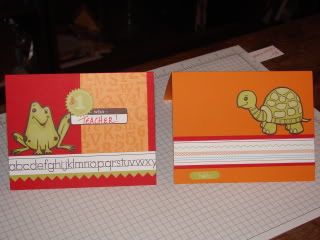 Next, i made a framed art piece, using a pic i had of a Tiki Statue that was at the Polynesian hotel at Disney World that we stayed at - i wanted to mat it and embellish it a bit.. It's in an 8x10 frame.
Tomorrow, i will share the scrapbook layouts i did with this kit! Yup, i ALSO made 3 scrapbook layouts too! You will just have to wait til tomorrow to see those!
So,let's recap - out of this one Simply Scrappin' Kit, (for $19.95), i have made so far:
(1) 6x6" 20 page album (see below)
(2) cards
(1) framed pic embellished
(3) scrapbook layouts ( (2) 8 1/2"x11 and (1) 12x12" layouts)
I will post those tomorrow - along with whatever else i can come up with using the rest of my scraps!! LOL All i can say is WOW. I never thought i could make so much out of one kit!!! These are FAB! Can't wait to see the new ones in july!!
Have a good night!
~Stacy