Hi everyone!! Well,first off I want to thank all my awesome ladies who came out to crop with me on Saturday!! Alice, Karen, Karen, Dori, Lorraine, Linda, Susan,Rosemary and Kathy... you guys are the best! I had a blast with you all.. And, of course, thanks to Cheryl for all your hard work - i love ya!!!
Now, on to business! Here is a peek at my new Halloween class i will be offering at Calvary UMC on 9/28 (monday) at 6:30 pm. I am asking that you sign up by 9/21 so i have enough supplies to make the kits - Cost will be $10 for the class or free with a $25 order.
Here is a preview of some of the goodies we'll be creating!!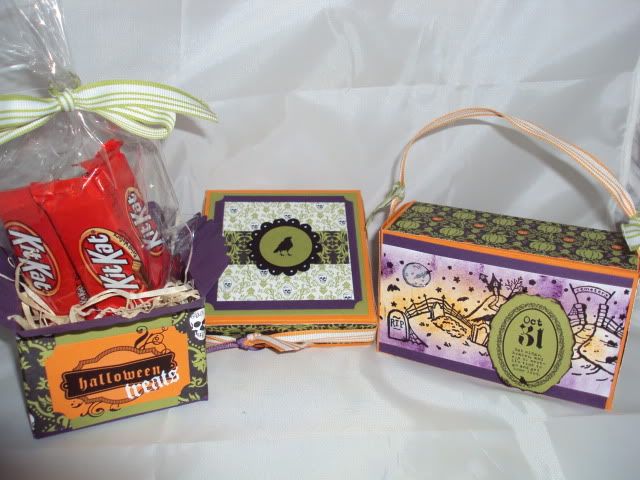 AGain, this is a sneek peek - there will be a couple surprises thrown in also!! :)
Also, for the first time, i am making this class available ONLINE!! You can use the paypal button below to purchase your class kit, i will ship everything to your door - to create the projects.. except the stamps. I will then send you a pdf. file with instructions and a list of supplies you will need - If you are interested in this, please use the button to buy now!
If you are interested in ordering the stamps, you will need the following,
#116539 Haunting Hill Jumbo Wheel (available 9/1!) $8.50
# 103661 Jumbo Wheel handle $5.95
# 104582 Jumbo Wheel cartridge - Basic Black $7.50
# 105216 Pumpkin Pie Classic ink pad $5.95
# 102874 Lovely Lilac Classic ink pad $5.95
REmember, you can shop secure 24/7 at www.stacyv.stampinup.net
If you are interested in attending the class: please email me and i can send you an invoice, or you can mail me a check. My email is :
smvenancio@yahoo.com
Everything else will come in your kit!